Calgary Fingerprinting Services (Ink & Digital)
Where do I go for Fingerprinting in Calgary?
Effective May 1, 2010, the Calgary Police Service no longer provides fingerprinting services to the public for civil matters such as immigration, employment, name changes, international adoptions, Record Suspensions (Pardons) or United States Waivers.  You must attend an authorized agency for non-criminal fingerprinting services in Calgary. 
We can assist you with your fingerprinting needs.  Our company is an RCMP Accredited and Certified Fingerprinting agency and has processed thousands of fingerprints.  We are one of the longest-running fingerprint agencies in Canada (since 1995).  Our company, the Canadian Legal Resource Centre Inc., has clearance from the RCMP to:
take ink and digital fingerprints;
digitize ink fingerprints taken from outside of Canada;
submit electronic fingerprints instantly to the Canadian Criminal Real Time Identification Services (CCTIS) for processing by the RCMP at NPS Building, 1200 Vanier Parkway, Ottawa, ON  K1A 0R2; and
process 48 Hour Name Checks (based upon a search of name and date of birth only).
Book an Appointment Online ***NEW***

You can now book your appointment online for any of the following services:
48 Hour Name Search
Electronic Fingerprints (also known as digital fingerprints)
Ink & Roll Fingerprints
NOTE: to book an appointment for all other services, please call 403-229-2774 (Calgary) or 1-800-320-2477 (Toll Free).
Schedule Fingerprinting Appointment
How Long is the Appointment?
Your first set of fingerprints takes around 15 minutes.
Add approximately 5 to 10 minutes for each extra set.
Hours of Operation
8 am to 5 pm – Monday through Friday
9 am to 4 pm – Saturday
Do You Have Parking?
Yes, we have free visitor parking in the front of our 3-story office building.  There is also a row of free visitor parking behind the building at the south end of the parking lot.   Please do not park in reserved parking stalls.
Methods of Payment
We accept Visa / MasterCard / Amex / Debit / Cash.
Identification (ID) Required
You are required to bring to the appointment (a) 2 Photographic ID or (b) 1 Photographic ID and 1 Government ID.  The identification must not be expired (a Permanent Resident Card is the only ID with an expired date that is acceptable).
Photographic ID: Provincial Drivers' License or Identification Card, Passport, Canadian Citizenship Card, Correction Services Canada Identification Card, Permanent Resident Card, Refugee Protection Claimant Document (Certified), Firearms Acquisition Certificate, Status Indian Card, Military Identification Card, Record of Landing and Nexis Card.

Government ID (no photo):

  Alberta Health Care Card, Birth Certificate, Certificate of Live Birth, Marriage Certificate, Immigration Papers (includes VALID document issued by CIC with applicant information) and Certificate of Legal Name Change issued in Canada.
Recommendation:  If available, bring your letter or instructions from the company or person requesting you to get a background check (e.g. employer, Citizenship Immigration Canada, licensing agency, etc.).

Fees and Disbursements
Digital Fingerprinting: $50 + $25 RCMP fee (if applicable, see below)
Name Check: $50
Ink & Roll: $35
Ink to Digital Conversion: $85 + $25 RCMP fee* (if applicable, see below)
Plus GST on all fees and disbursements
The following searches do NOT have an RCMP fee:
Citizenship Immigration Canada: Temporary Visas, Permanent Residency, Citizenship
Employment (Federal)
Employment (Police)
National Sex Offender Registry
Privacy Requests (ie. for Pardoned or Non-Certified Criminal Record Search)
Volunteering
Types of Fingerprinting and Background Check Services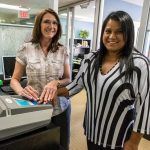 Electronic Fingerprinting
For criminal record searches and police clearances in Canada:
Obtain electronic fingerprints when you need a search from the RCMP in Canada.
Fastest and most reliable results produced with this type of search.
Also referred to as digital fingerprinting.
---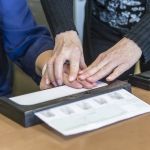 Ink and Roll Fingerprinting
For criminal record searches and police clearances in Canada:
Obtain ink and roll fingerprints in Canada when there is NO electronic fingerprinting agency near you.  Send your ink fingerprints to our office for digitization as the RCMP will no longer accept ink fingerprints for processing.
For criminal record searches and police clearances outside Canada:
You will need ink and roll fingerprints for processing in other countries.
---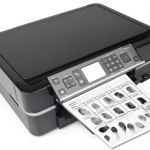 Ink and Roll Digitization
The RCMP will only accept digital fingerprints for processing in Canada.
Using our technology we scan ink fingerprints into our system for digital submission to the RCMP. For more information check out INK DIGITIZATION.
---

48 Hour Name Check
We also provide 48-Hour Background Checks based upon a search of your name and date of birth only. This type of search is not verified by fingerprints. A name check is only accepted in limited situations. Check out Name Checks.
---
 Reasons Why Individuals Need to be Fingerprinted
Citizenship Immigration Canada
Temporary Study, Visitor and Work Visas
Permanent Residency (Landed Immigrant Status)
Humanitarian/Refugee Applications
Canadian Citizenship
Criminal Records & Immigration Violations
Canadian Pardon
Record Suspension
US Waiver of Inadmissibility
Overcoming Removal or Deportation from U.S.
Types of Applications

Admission into Educational Programs
Adoption
Bonding
Employment
Foreign Employment & Immigration
Canpass
Legal Name Change
Licensing
Nexus
Renting a House
Volunteering
Vulnerable Sector Search
Other Frequently Asked Questions
Are the results of the police check sent to me?
We will instruct the RCMP to send the results to the address you designate. You can select your personal address or the address of a Third Party.
If the applicant is under 18 years of age, the results must be mailed directly to the applicant's home address.
Vulnerable Sector Search
You must attend the Calgary Police Service if you need a Vulnerable Sector Search.  Do NOT schedule a Vulnerable Sector Search with a private fingerprinting company.  Click here for information on how to get a Vulnerable Sector Search with the Calgary Police:
Not sure if you need a Vulnerable Sector Search? Check with the organization requesting you to get a background check.  They need to tell you whether you need just a regular background check or if you need a Vulnerable Sector Search.
Though it may not always be the case, a Vulnerable Sector Search is often required if you are wanting to adopt in Canada or volunteer/work with the vulnerable sector which includes children, disabled, sick and elderly.
RCMP Processing Times
All fingerprinting agencies use the same technology that allows us to take and submit fingerprints to the RCMP instantly.
RCMP handles all requests received on a first-come-first-serve basis. They do not accept requests for an emergency.
No fingerprint agency can promise faster processing than another fingerprint agency.
What does a Criminal Record Check Reveal?
A fingerprint-based criminal record check completed in Canada reveals one of the following:
confirmation that NO criminal record exists;
criminal convictions and related information found in the RCMP database;
pardoned or suspended criminal record (if ordered under the Privacy Act).
Related information may include:
Discharges (which stay on your record for 1 year if absolute or 3 years if conditional);
Withdrawn/Dismissed charges; and
Stays of Proceedings.
Missing Convictions:
All local police voluntarily register most convictions and related information in the RCMP database.
If the conviction is missing from the RCMP Criminal Record Search, the conviction may still be disclosed if you obtain a local police check based upon a search of your name and date of birth.
Pending Charges:
Ordinarily, pending charges do not show up in a criminal record background check obtained through digital fingerprints.
The RCMP may choose not to release the results of a background check while charges are pending.
You may have to wait several months to obtain an RCMP background check until (a) the charges are concluded and withdrawn or dismissed; or (b) a conviction results and is subsequently registered on the RCMP database.
This can be a big problem if someone with a similar name and date of birth has been charged but not yet fingerprinted and they share the same name and date of birth as you!
How to Get a Background Check Outside Canada
The best resource for getting a background check outside Canada is to check Citizenship and Immigration Canada Website. They provide instructions on how to get a background check for most countries in the world.
Citizenship and Immigration Canada Website
About the Canadian Legal Resource Centre Inc.
We are one of the longest-running fingerprint agencies in Canada (since 1995).
We are very knowledgeable about criminal-related information, immigration, Pardons, Record Suspensions, U.S. Waivers, travel and more.
We won the CCA Award for Business Excellencetwelve consecutive years in the category of "paralegal services".
We can help the Chief Security Officer (CSO) of your company set up reliable security screening practices.
Meet our team: //www.canadianlegal.org/staff-paralegals/
We have a great reputation. Checkout Google + Reviews and BBB A+ Reputation.